The retailer's cross-Canada expansion.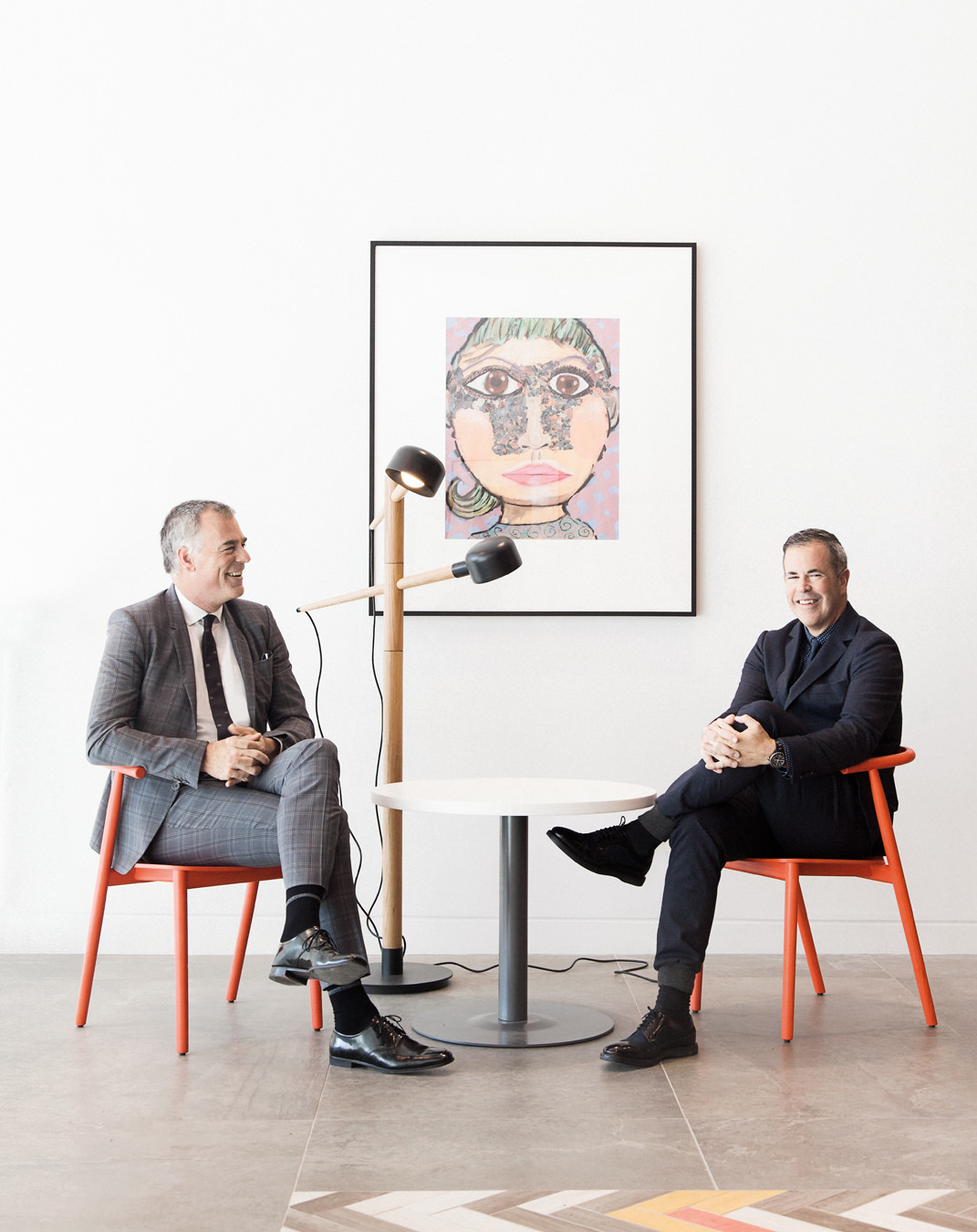 "They built a shopping centre in a field together, on a handshake," says Peter Simons, president and CEO of La Maison Simons (known simply as Simons), recounting the day in 1961 that his father, Donald Simons, sealed the deal on the family's location that still stands today at Place Ste-Foy. Today, Peter is sitting back at a modern beech table on the top floor of a not-quite-complete Simons department store at Vancouver's Park Royal shopping centre on the eve of its opening. Just hours earlier he was unpacking boxes with his team as final preparations were taking place for 800-plus guests to fête the Simons Vancouver debut that evening. In operation are no less than a hundred employees, dressing mannequins, installing fixtures, arranging displays, and testing sound speakers.
Amid cross-country leaseholder negotiations and multi-million-dollar store builds, it would be difficult not to feel nostalgic about the day Donald cemented the future of Simons Place Ste-Foy in a farmer's field. But it seems that the really good days for the storied Quebec-based fashion retailer might just be the new ones. As the fifth generation to lead the 175-year-old family-run business, Peter Simons has overseen their expansion with eight new store locations, including the company's first foray outside of their home province. Six other planned locations across the country will encompass a combined 485,000 square feet by 2019.
"We're building something we believe in," Peter says. "I think it doesn't matter how big or small you are, you have to be world class in what you're doing. But I'm hoping we can make a bit of a difference and build something that's meaningful and a little more connected to Canada."
La Maison Simons has earned a foothold as a pioneer in the Canadian fashion and retail landscape first for importing Scottish knitwear, and now for their unique mix of accessible in-house lines intermingling with established brands for a multi-generational approach to shopping. In Quebec, they are known as much for their forward-thinking ethos as their dedication to customer satisfaction, from honouring a single request for extra beads on an embroidered sweater to their longstanding loyalty programs. Peter and his younger brother, Richard Simons, vice-president of merchandising, are hoping the rest of the country will appreciate their version of the modern department store. "We want it to be a love affair, for everyone. We want customers to love us, but we're going to earn that," Peter asserts. "We're not big enough to do a ton of experimenting; we sort of have to think it through in our brains and try to pick the right thing." And it's clear they're doing their homework. When the brothers began their careers at the privately held company in the eighties, Simons was a $12-million-a-year business; today that sales figure is reportedly over $400-million.
"I haven't seen this guy in three weeks," Peter says as Richard approaches, fresh off a flight from Paris. "He actually works. I just sort of wander around and pretend to be in charge while he's away." They both laugh as Richard adds, "Peter does all the talking."
The self-described "regular guys" play basketball and hockey, are married with children, and have matching gentle eyes that crinkle under dark eyebrows as though always in deep thought. They both speak in run-on sentences, constantly finding a new and improved way to say what has just been said, as though always thinking forward, faster and better. But at the same time they lean in, and want to know more about the person sitting across from them.
The Simons story began in 1812 (the year the United States declared war on Great Britain and brought solidarity to Canada as the country fought off invasion), the year the brothers' great-great-grandfather, also named Peter Simons, moved his family from Scotland to Beauport, Quebec. A few years after settling in Canada, he fell ill and became blind, so his five children needed a means to survive and thus John, 17, moved to Quebec City and apprenticed in the dry goods trade. In 1840, he opened Simons Dry Goods and through a reported 72 trips across the Atlantic to procure Scottish and Irish knitwear and linens, John became one of the most significant importers. "He set the tone for the DNA of the company," says Peter—and also developed the policy "full satisfaction or your money back," which became the foundation of the Simons' business philosophy and customer care. "We were always looking to new places and looking to bring back the best of what we could find," Peter continues—and still today, he says, the company is "trying to find those particular things, those 'discovery brands', I like to call them. Not even brands, just merchandise that's meaningful to us."
In 1870, Simons Dry Goods moved to 20 Côte de la Fabrique (still a current location, but now a Simons) and as the years passed Archibald Simons (John's son) took over the business from his father. The company continued to thrive, but at the age of 52 Archibald passed away suddenly. His son, Donald Simons, who had been working in the U.S. at the Chicago department store Carson Pirie Scott & Co. (known today as Carson's), returned to take charge. "I think the company probably changed most when my father [Donald] came back," Peter recalls. "He had come back with this feeling of urbanization and had an idea of developing our own in-house brands. It might seem obvious now, but in the 1950s it wasn't obvious."
"I think it doesn't matter how big or small you are, you have to be world class in what you're doing," says Peter Simons.
Donald was at the forefront of a new generation of creative young entrepreneurs just at the time when fashion was beginning to shift. He carved out fashion niches and distinctive house brands for multiple generations, introducing Twik, inspired by Twiggy, the it-girl of the era that heralded a new guard of style. Le 31, named after the French equivalent of the phrase "dress to the nines", was launched for menswear. Contemporaine came next, a sophisticated line for women.
Peter and Richard grew up alongside their two sisters in Quebec City, without much talk of business at home. ("People imagine you sit around and your father gives you merchandising lessons at the dinner table," Peter says.) "I respected [my family] for that; there was never any pressure. Almost the reverse maybe," Peter remembers. "They were very cognitive, they wanted us to get educated, find something we liked to do." Peter studied engineering, transferred to economics and went on to the Richard Ivey School of Business to complete his studies. It was on his own volition that he asked his father for a job at Simons, joining the company in 1986. "If you're no good at doing the job, I'm going to fire you," Peter recalls his father saying, laughing at the memory. "He kicked me out of the store two or three times, told me to go home and get my act together." Richard, who studied business administration at the University of New Brunswick, joined the company, as a buyer, in 1989. (Neither of their sisters decided to join the family business.)
In 1996, Peter and Richard took over from their father, who stepped back to allow for yet another new era of the company. Peter was just 32. "It's been a voyage really. Everyone's grown up and the older generation gets older and they have different needs, and the younger generation has needs and it's always sort of that struggle of finding that balance." Three years later, the brothers decided to venture beyond Quebec City and open a store in Sherbrooke, with another to follow on Rue Sainte-Catherine in downtown Montreal. By the time Donald Simons retired in 2009 at the age of 80, La Maison Simons had seven stores in Quebec, with another two, including a West Edmonton Mall location, open by 2013.
Peter is not afraid to admit to the stress he feels during this period of rapid growth. "We're going to take care of [our customers], one person at a time," he says. And Richard agrees: "We can build the store and fill it with goods, but we learn about the market, learn about the customer and want to win them over, making sure they enjoy their experience." "Every city has its own beat," adds Peter. And Park Royal is not just about another location for Simons, but rather about creating an experience and connecting with a new community. Simons is dedicated to arts and culture in Canada and makes a point of including the work of local artists in each new build—in Vancouver, that includes Coast Salish artist Jody Broomfield's Kayachtun relief that pays homage to the store's presence on Squamish Nation territory, and in Edmonton, a Philip Beesley light installation that flutters and swells in rhythm with the movement of the customers below.
"What's the goal of art?" asks Peter, rhetorically. "It's the ability of beauty to inspire you and to bring you to somewhere else," he says. "It's a physical manifestation of hope and inspiration." For artists like Douglas Coupland, who is working with them on a large-scale and crowd-sourced project called 3DCanada, Simons' dedication is a significant one. "Peter Simons is a serious collector and he really knows his stuff," Coupland says. "He lives with art in all aspects of his life. I don't know about national retail, but I do think the rise of Simons is connected to Quebec's re-emergence as a creative powerhouse."
With blockbuster names from the U.S. like Nordstrom and Saks Fifth Avenue opening doors in Canada, the retail landscape for department stores is more competitive than ever. "I'm a believer in the store not as a channel but a place for people to meet. A quality space for hopefully a quality moment," Peter states to differentiate the Simons approach. "It's still about people and it's really about values."
Today, Simons' position as the only truly Canadian business in the ring stands to set them apart. (As does the fact that despite its large floorplan, Simons stores lack cosmetics departments and the large footwear areas typical in similar-sized department stores.) Holt Renfrew was purchased by Galen Weston, in 1986, with ownership under the Selfridges Group Limited headquartered in the United Kingdom. Toronto-based Eaton's bowed out of the scene in 1999. The Hudson's Bay is now led by American entrepreneur Richard Baker, also the head of Saks Fifth Avenue and Lord & Taylor, and based in New York. "Other people try to come and want to do business here but they don't want to be a citizen here," Peter says. "I think Canadians want to shop at Canadian websites and Canadian stores," Richard adds. "We pay our taxes to the same people you pay your taxes to."
For Simons, the conversation goes beyond where Canadians will end up choosing to shop. "We're starting to talk about one of the most important conversations we're going to have in the 21st century," Peter says. "I seriously sincerely believe that. The way we organize and finance our values and build our country is going to change massively." And they have every intention of being a part of that conversation.
"The goal isn't just to be bigger," Richard says. "The goal is to have longevity and be here for a while and to do the things that we want to do. We don't have plans to be all over the world. We want to stay in Canada and do our thing."