A Persuasive Trip Through Jane Austen Country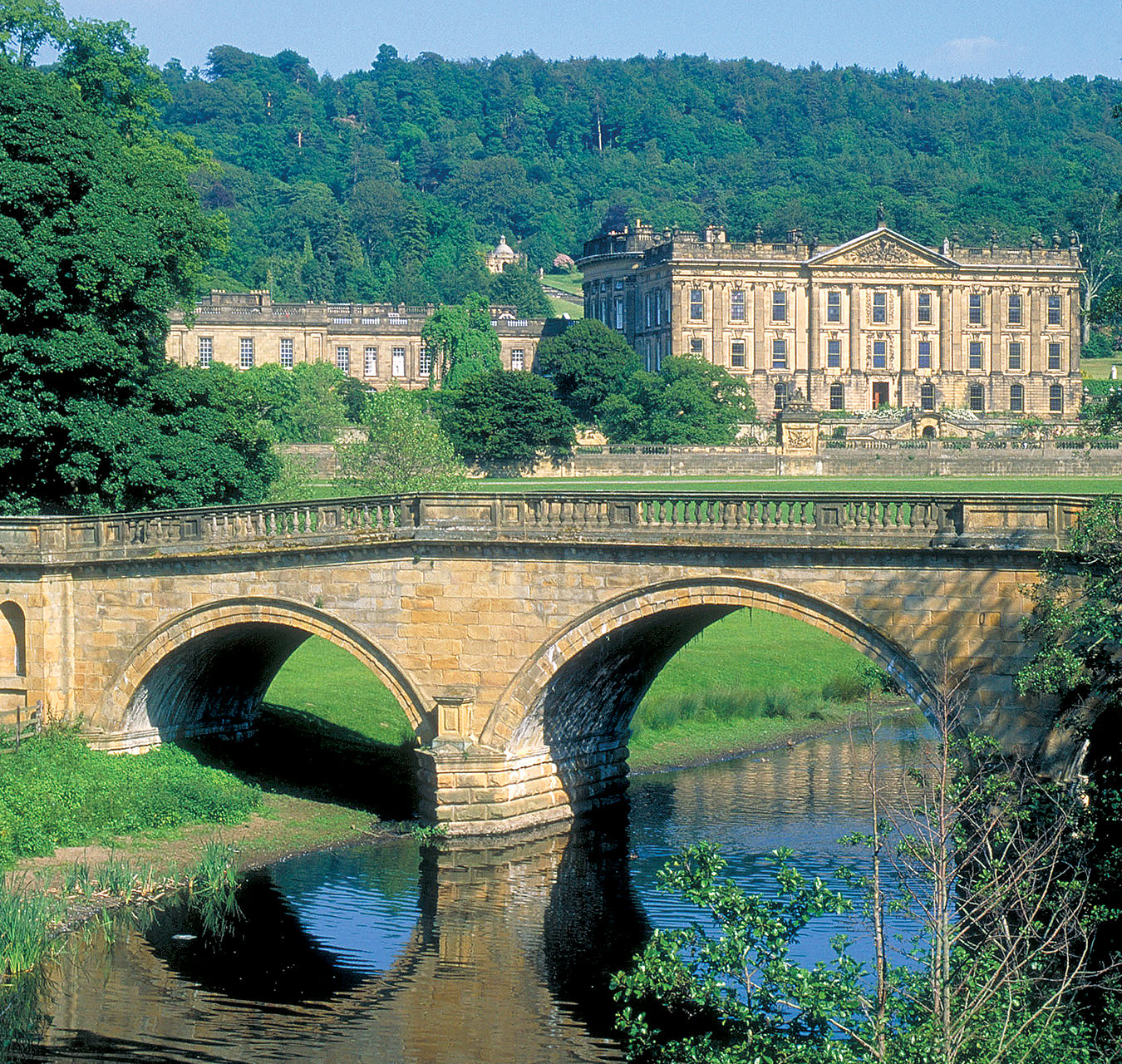 "Hold all my calls, I'm sleeping with Mr. Darcy tonight!" So went my cheeky last words to the innkeeper at The Peacock at Rowsley Hotel. A mere year ago, Colin Firth slipped between these very sheets. He was in town for the wedding of the hotel owner, who happens to be Lord Edward Manners. Across the hall, actress Keira Knightley and her Mr. Darcy, played by Matthew Macfadyen, found sanctuary in these darling rooms after long days of filming Focus Features' new adaptation of Jane Austen's Pride and Prejudice. That's a lot of anglophilia to be found in a hotel the size of a country post office.
For a whole generation, the BBC version's shot of Colin Firth diving into the lake sparked a new fascination with life and love in the Georgian era. With Firth's dripping shirt still wet in our minds, the new version has a lot to live up to. The shoot took place during the summer of 2004, boasting a stellar supporting cast featuring Judi Dench, Donald Sutherland, Rosamund Pike and Brenda Blethyn. The movie was filmed in some of England's most beautiful settings, which is fitting given that Austen drew on the local landscape for her most descriptive passages. Austen refers to there being "no finer county in England than Derbyshire", and admired "all the celebrated beauties of Matlock, Chatsworth, Dovedale and the Peak".
This new form of "cinematic tourism" advocates that the most inventive way to experience the English countryside is through the eyes of its most famous literary sweetheart. One can trace Knightley's path in shooting her key scenes, tuck in and nosh where the cast and crew stayed, all the while uncovering the episodic splendour of "Jane's World".
In preparation for my journey, I reread Pride and Prejudice, which I had not revisited since I was seventeen. Most of Austen's novels are classical comedies; they feature young couples fumbling their way toward a festive conclusion, namely marriage. Furthermore, they're all, structurally speaking, the same comedy. There's a heroine, a hero, and an obstacle. The obstacle is always class and/or money.
In my senior year as an English literature major at Bowdoin College in Maine, my peers were absolutely hypnotized by Austen. She was curiously capable of keeping us all in thrall—the Freudians, the Marxists, the linguists, the post-structuralists. We all found a kind of madcap theme park in these formulaic novels about middle-class provincials. For every generation of readers, her fiction effortlessly refreshes itself, like a governess powdering her delicate nose.
Each age brings its peculiar angle to Austen. In the age of the Olsen twins, Katie Holmes and Britney Spears, Austen's own anxieties stand fully revealed. We draw parallels between Austen's most memorable heroines and our own contemporary ingenues, with their "cult of feminine franchise". How fleeting their nubility, how easily replaced. In the lavish assembly rooms and other high-handed occasions for inflicting social pain, we see how invested the heroine's social betters were in this infliction.
The perfect beginning to a Pride and Prejudice tour is, without a doubt, Bath. Austen paid two long visits here towards the end of the 18th century, and from 1801 to 1806, Bath was her family home. Her intimate knowledge of the city is reflected in two of her novels, Northanger Abbey and Persuasion. The city is still very much as Jane Austen knew it, preserving the elegant, well-ordered world that she portrays so vividly in her writing. Stopping by the Jane Austen Centre in the heart of the city is a must; the selection of teas and scones is bountiful, as is the wealth of information on Bath's best-loved resident.
For every generation of readers, Austen's fiction effortlessly refreshes itself.
Of the many accommodation options in Bath, the Royal Crescent Hotel is a sumptuous treat. The hotel is part of a majestic arc of 30 Georgian houses, laid out like a stone tiara, the masterpiece of John Wood the Younger. The austere facade is flattered by autumn; its yellow stone enlivens the eye. Steeped in history, the hotel has played host to numerous celebrity visitors, from the 18th-century to the present day. Rock stars from Coldplay to Blur have been known to helicopter onto the property for a little "downtime" prior to gigs in London or Glastonbury. After all, Van Morrison and Peter Gabriel, who immortalized nearby Solsbury Hill in his song, both call it home. Johnny Depp is another regular, frequent fan of many Bath hotels.
In short, Bath is bliss. Over 50 per cent of weddings are of visitors to the city; indeed, it's returned to its roots as the most romantic city in England. In the 18th century, Bath played a pivotal role in the marriage market. The grand banquet halls were ideal for people watching, where prospective mates flirted and flaunted their finery. It remains a magnet for fashionable society, attracting romantics from all over the country.
For the finest game dishes in Bath, I highly recommend the Bath Priory, a short walk from downtown, through the lush Royal Victoria Park. It's the only hotel in Bath with a Michelin-star restaurant, an award held since 1999. Anticipate crackling log fires, along with fresh flowers, gorgeous antiques and owner Andrew Brownsword's stellar personal collection of Edwardian and modern paintings. As one of the most esteemed hotels in Bath, they've built a fine reputation on two elements: award-winning flower gardens and Michelin-star food. With this sensual combination, this is a most charming and discreet leader of the renaissance in English hospitality.
After a restful night in Bath, I set out on a three-hour drive to Derbyshire, where Chatsworth House, the highlight of any Pride and Prejudice tour, awaits. In the new movie, Chatsworth's stone exterior and sweeping parkland become the fictional Pemberley, home of the dashing Mr. Darcy. In 1996 Chatsworth was voted "England's Favourite National Treasure" (beating, presumably, the Queen Mum and Wallace and Gromit). Home of the Cavendish family for 450 years, the estate boasts a thousand acres of groomed mazes, ponds and cascades; inside, the works of Velasquez, Rembrandt and Gainsborough. The grand staircase of the Painted Hall is where they shot Lizzie glimpsing into Darcy's gilded world for the first time.
For diehard film lovers, an overnight stay at the Peacock at Rowsley Hotel is a must. A small luxury hotel located in the famous Peak District, in the heart of England, stars Knightley and Macfadyen stayed here while shooting. Recently acquired by Lord Manners, the hotel has been refurbished and styled by award-winning designer India Mahdavi. The 17 bedrooms mingle mullion windows and antique furnishings from Belvoir with crisp white linens and the finest fabrics, sourced from Paris and Milan. Indeed, if you're up for "The Full Darcy", here's an insider's tip: Matthew Macfadyen stayed in Room 1, and Colin Firth stayed in Room 17 while attending Lord Manners's recent wedding. Keira Knightley fans are better off in Room 14.
After waking up in Lord Manners's hotel (where the waffles are not to be missed), the next logical step is to visit his ancestral home for over 500 years, Haddon Hall. Lord Manners himself welcomes me into his home, a breathtaking example of building styles from the 10th to 17th centuries. The main banqueting hall is one of the finest examples of a medieval hall in England. The hall, which features a tapestry that belonged to King Henry VIII, transforms into the "Inn at Lambton" in the movie, while its dining hall becomes Elizabeth's bedroom.
An overnight stay at the Peacock at Rowsley Hotel is a must.
From Derbyshire, it's a manageable 30-minute drive to the picturesque village of Hathersage. The Peak District is where Knightley captures the most evocative scene in the movie, standing on a precipice overlooking the dramatic view, she contemplates her future. As well as the varied and fascinating landscapes, the film crew used many of the grand houses that dot the Peak District. After seeing the movie, you can stay and play in the real-life set amidst theatrical scenery and magnificent stately homes.
My favourite leg of the journey was the grand finale: checking in to the newly minted Four Seasons Hotel Hampshire. Put simply, it's all about the impeccable and seamless service the Four Seasons is famous for: a rare breed of care that is intuitive and allows you to truly and inexplicably escape. The unparalleled level of personal service has reached its absolute patrician pinnacle in this stunning new property. When a girl is pampered with ladies-in-waiting, grooms and coachmen seeing to her every whim, she slips into the illusion that she really is the heroine in her own romantic novel.
Nestled within rolling countryside a mere hour from central London, this intimate, historic Georgian manor revives storybook charm and gracious living. Canter through meadows on horseback. Practice your shot. Indulge in a hot stone massage in the 27,000 square-foot spa. Cruise down the narrow Basingstoke Canal in a custom-built barge when the larks are in song.
If Lizzie and Darcy were to tie the knot in 2006, no doubt they'd be doing it here. From a bridal pavilion amongst the British Heritage-listed gardens to a newlywed hot-air balloon photo op over the Hampshire countryside, a Four Seasons on-site wedding specialist is on hand to assist with all aspects of your planning. After all, it was here that the ill-fated Prince Arthur first saw Catherine of Aragon, who went on to marry Arthur's brother, Henry. Suffice to say, the place still has that kind of grip on young hearts.
Ten years ago, the BBC's six-part serial of Pride and Prejudice emptied the streets of England every Sunday night. It ignited Austen fever; and moreover, a feral breed of Darcy-maniac. The latter led to amusing love letters to idealized 18th-century masculinity from the mainstream media—with editors indulging in the guilty pleasure of running at least one interview with the bus driver or barrister who happened to be named Darcy.
Cinema persists as an intoxicating inspiration for travellers, especially when the location is as beautiful as the English countryside. Moviegoers will fall in love with the gorgeous destinations featured in Pride & Prejudice, shot entirely on location in the U.K. VisitBritain, the national tourist office for England, Scotland and Wales, offers the perfect itineraries for travellers to explore these breathtaking film locations and stay where the stars stayed. Their elegant website for this initiative is a valentine to all intrepid, romantic travellers in search of a return to splendour.
Photo courtesy of VisitBritain.