Kent Monkman's Latest Exhibition at the Royal Ontario Museum
In a new exhibition, the Royal Ontario Museum is reclaimed as a site of Indigenous resistance.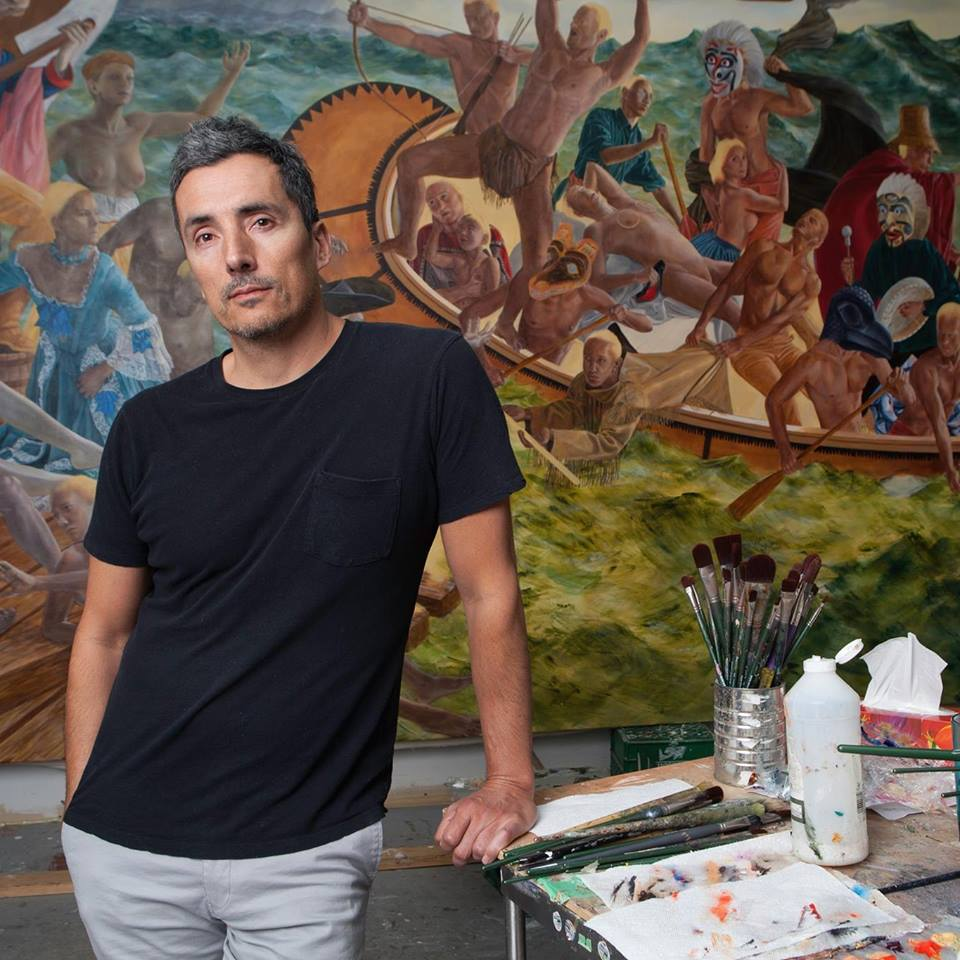 When artist Kent Monkman, known for his critiques of recorded history, says he wants to start a dialogue between his paintings and objects from the holdings of an old guard museum, you can guarantee the conversation won't be an easy one. But you can also be certain it will result in important contributions to socio-political and contemporary-art discourse.
His latest institutional commentary is the exhibition Kent Monkman: Being Legendary, at the Royal Ontario Museum in Toronto from October to March. Items from the ROM's collection—fossils, meteorites, moccasins, and more—are displayed alongside 35 paintings he made for the occasion.
The artist, a member of the Fisher River Cree Nation, provides an Indigenous perspective courtesy of exhibit narrator Miss Chief Eagle Testickle, his time-travelling, gender-fluid, always-high-heeled alter ego.
Monkman, one of Canada's most revered living artists, has made his career reversing the colonial gaze, offering counternarratives that present Indigenous points of view. His darkly humorous, erotically charged, and interdisciplinary approach straddles painting, film, performance, and installation to shatter versions of history that are as erroneous as they are prevalent.
In his paintings, Monkman mimics 19th-century landscape traditions established by artists such as George Catlin, Albert Bierstadt, and Emanuel Leutze, using the colonizer's methods to subvert stereotypes of Indigenous peoples as a "vanishing race" of "noble savages."
For example, in Resurgence of the People (2019), Monkman appropriated the composition of Leutze's Washington Crossing the Delaware (1851), which depicts the first president of the United States heroically arriving upon unpopulated shores by boat.
In Monkman's interpretation, an Indigenous crew steers a canoe across choppy waters. Miss Chief occupies the space originally filled by Washington, sending the message that Indigenous ways of knowing will persevere—and can pilot humanity toward safety and salvation.
Being Legendary invites the museum to reconcile its role as a by-product and beneficiary of colonialism by becoming a machine for time travelling instead. Visitors will be transported to the point of early contact. Following Miss Chief's guidance, they will imagine an alternate reality in which Indigenous voices are amplified instead of being minimized and disregarded. Monkman's exhibition instigates a critical conversation, one that aims to extend beyond gallery walls and into the fabric of society.