The Most Notorious Female Spy: Mata Hari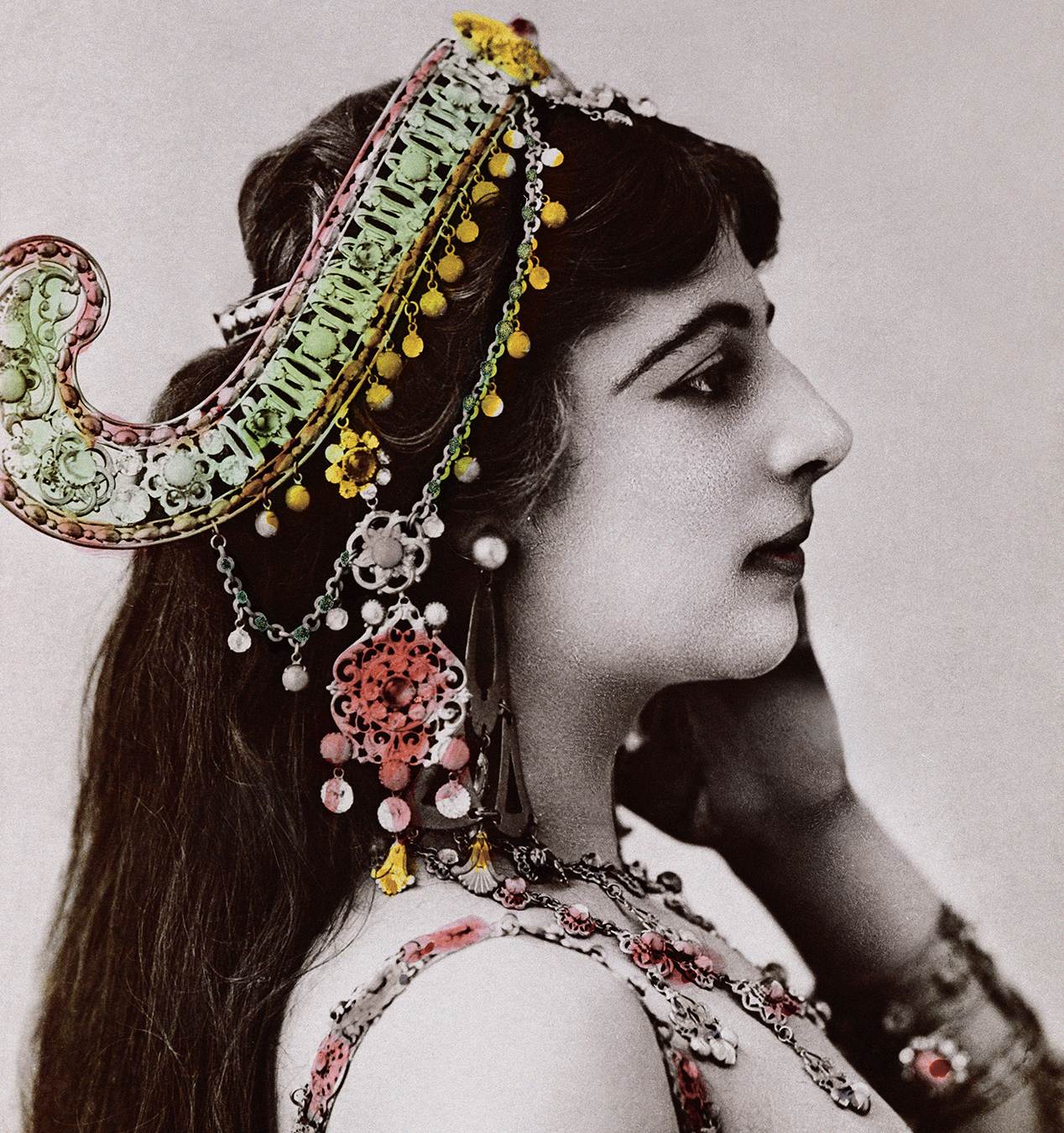 The most notorious of all female spies, the personification of the femme fatale, the mysterious exotic and erotic dancer from the East, Mata Hari was really Margaretha Geertruida Zelle, who broke away from her Friesland home in the Netherlands by answering a personal ad in the newspaper. She married the lovelorn Rudolf MacLeod, an officer on leave from the East Indies. She was 18; MacLeod was 40, and represented escape.
Her father, a wealthy haberdasher, had provided her with a luxurious childhood. He told her she was a special creature and not like other girls. After he lost all his money, Gretha, as she was called, was sent to live with various relatives and got along with none of them. She couldn't cook, wouldn't clean, was good at dreaming. She studied to be a kindergarten teacher but was forced to leave the school after conducting an affair with the headmaster.
She moved to Java with MacLeod, who reverted to his rowdy, bachelor ways and left his young wife to become stultified at home. MacLeod never informed her that he suffered from syphilis. Their son died, possibly of complications of the disease, when he was four years old. Their daughter outlived Gretha, but died at the age of 21, also, probably, from syphilis.
After five years in the East Indies, the couple returned to Holland, where they divorced in 1903. Gretha took the little girl and tried to earn a living in different Dutch towns, but MacLeod placed ads in the papers denouncing her. After he spirited their daughter away, a despondent Gretha boarded the train to Paris. As she later told reporters, "I thought all women who ran away from their husbands went to Paris."
Gretha at first survived on the only skills she had, or thought she had. At the beginning of 1905, she was near destitute, living from trick to trick; but at the end of that year, she paid her bill at the jewellers for $50,000. Her fortunes began to change when she got work as an equestrienne with a circus. Gretha was a fine trick rider, but her boss, circus owner Ernest Molier, suggested she might fare even better as a dancer. So during her time off from the circus, Gretha worked on routines improvised from dances she had seen during her years in Indonesia. In her dancing debut she wore a casque of gold upon her head, a breastplate, and a few layers of flimsy cloth. She danced before a statue of Siva, the Hindu god of destruction and salvation. A correspondent for a London society magazine was present, and was overwhelmed by the show. The writer's first line made her a legend: "Vague rumours had reached me of a woman from the Far East … laden with perfumes and jewels." He ended his review thus: "… she divested herself, one by one, of the veils implying that, as a sacrifice, she gave beauty, youth, love, etc.; and finally worked to a frenzy, unclasped her belt and fell in a swoon at Siva's feet."
She was soon a sensation, but that first review captured the romance, the mystery, and the seductiveness of the sex goddess who would in a little over a week have a new name.
Mata Hari first appeared at the Musée Guimet, an Oriental art museum that housed the collections of wealthy industrialist Émile Guimet. He would later claim that he came up with the "Mata Hari" name, but the phrase was well known in the East Indies, meaning "the eye of the day". (In 1897, Gretha had written to a friend in Holland that she longed to be a dancer and use the name Mata Hari.)
Newspapers and magazines seemed to try and outdo each other in lavishing praise: "… majestically tragic, the thousand curves and movements of her body trembling in a thousand rhythms … an exotic spectacle yet deeply austere … Mata Hari dances with her muscles, with her entire body, thus surpassing ordinary methods …"
She danced in theatres, at exclusive salons, and in the homes of the very rich. She danced three times at Natalie Barney's infamous lesbian garden parties at Neuilly. Mata Hari also had a sideline of appearing as Lady Godiva naked on a white horse. She was in the press continually, and offered each interviewer a different story of her life. She was the daughter of a temple dancer, either in Java or India. She was European, stolen as a child and trained to be a dancer. She was rescued from slavery by a Scottish lord who was murdered. She was half-caste. She was of pure Indian blood.
Mata Hari did not, as in earlier days, carry on affairs for money; as she never denied, she liked men and she liked having sex with them.
Mata Hari maintained affairs with several highly placed French officials and numerous officers of the military. She went on tour throughout Europe, expanding her fame and her circle of male admirers. In Monte Carlo, she had a brief liaison with opera composer Jules Massenet, and in Berlin became the mistress of the extremely wealthy Alfred Kiepert of the 11th Westphalian Hussars. Kiepert set her up in a large home, and when they ended their affair three years later gave her a small fortune as a farewell present. While in Berlin, she was also the mistress of one of the chiefs of police. In 1906, in Vienna, she engaged in what became known as "the war of the tights" with Isadora Duncan, Maud Allen, and other new imitators. Mata Hari vanquished her competitors, declaring, "Born in Java, in the midst of tropical vegetation, I have been taught from my earliest childhood the deep meaning of these dances which constitute a cult, a religion. Only those born and bred there become impregnated with their religious significance, and can impart to them that solemn note to which they can lay claim."
As a recent biographer has explained, "She believed her own lies, which was the key to her sincerity."
For several more years Mata Hari roamed blithely across the continent, dancing, being lauded by the press, and forming associations with men, most (but not all) of whom were rich. At one time she lived simultaneously in four houses and three apartments given to her by male admirers. She did not, as in earlier days, carry on these affairs for money; she did what she did because, as she never denied, she liked men and she liked having sex with them.
The outbreak of war in 1914 did not at first cause any significant alteration in her manner of living. Although she found it more difficult to move across Europe, the war also meant there were more uniformed men in Paris.
It is unclear when Mata Hari first came to the attention of Allied intelligence, but within a couple of months French detectives in Paris were following her night and day. Their reports reveal a woman who, after sending off the man with whom she had spent the night, began a round of shopping, entertained a man for an hour or two in the late afternoon, visited more shops, and had another visitor overnight. At one point, while maintaining this schedule, she kept an additional lover, the Marquis de Beaufort, in an adjoining suite. And none of this kept her from falling in love with a Russian officer, Vladimir de Masloff, who she would claim was the only love of her life.
She was arrested in Paris as a spy on February 13, 1917, and held in horrid conditions until her execution on October 15 of that year. There has been debate over her guilt or innocence ever since. It is true that she offered herself as a spy to counter-intelligence in France. She explained that her dealings, and sexual relations, with certain highly ranked Germans were the result of her missions for the head of counter-intelligence, Georges Ladoux, who later testified he had not sent her on any such missions. It came down to the word of Ladoux versus the word of Mata Hari. The latter was—no way around it—an outrageous teller of untruths, and was shown to be so. She was not, however, proved to be a spy. As for Ladoux, four days after Mata Hari was executed, he was exposed as a German agent and imprisoned for treason.
Mata Hari, then, was executed for being a self-described "international woman", who took her pleasures when and with whom she pleased.
The night before her execution she danced for the two nuns who took care of her and who wanted to remember the "the true Mata Hari", not the wretched, half-starved prisoner they had come to know. She told the sisters that she felt sorry for the soldiers who would always feel the burden of shooting Mata Hari. At 5 a.m., dressed in the clothes she had been allowed for her trial—stockings, a two-piece suit, a low-cut blouse, and ankle boots—she tucked her unwashed hair under a tri-cornered hat, set it at a rakish angle, put on gloves, threw a cape around her neck, and declared herself ready. She refused to confess, saying she had done nothing wrong, and would not let the warder touch her as she made the long walk.
She would not be tied to the stake, refused the blindfold, and waited for the bullets with her hands on her hips.
No one claimed her body. Her head was sent to the Museum of Anatomy in Paris, where the brains of criminals were studied. It later disappeared.
Photo ©The Art Archive/Corbis.
_________
Never miss a story. Sign up for NUVO's weekly newsletter here.