Jakes Hotel, Treasure Beach Jamaica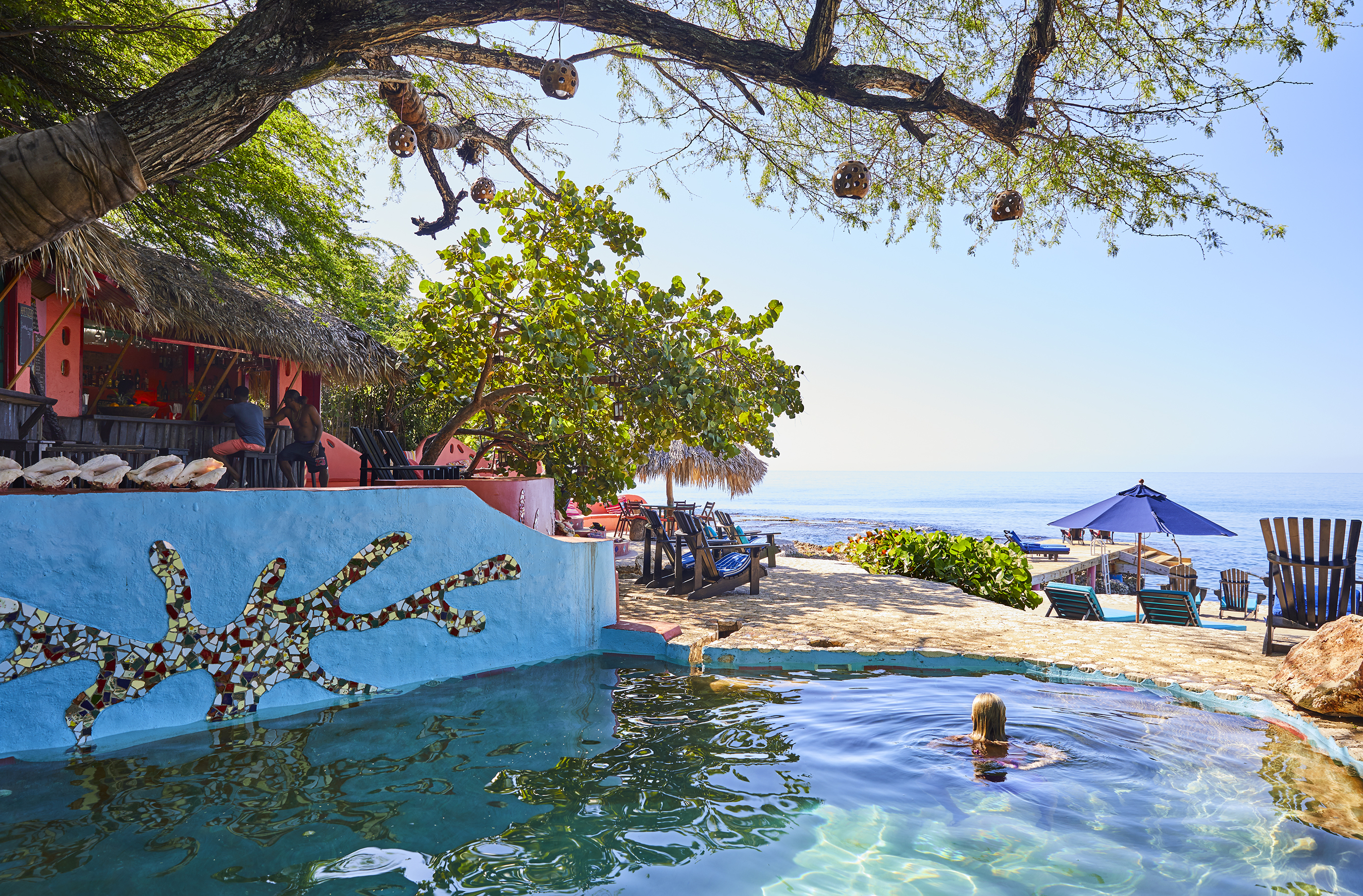 "Welcome to Treasure Beach—you are now in Off-the-Beaten-Path," says the driver upon arrival. The remote stretch on Jamaica's south coast, a two-and-a-half-hour drive from the northerly cruise ship port of Montego Bay or from the capital of Kingston, is a quality different from either of the island's bustling hubs, and driven by community tourism: a dedication to supporting local businesses offering an intimate experience. This is especially true at Jakes, a whimsical family-run boutique hotel.
Cradled between hilly farmland and the stretching Caribbean Sea, Jakes has plenty of nooks for whiling away the hours. Matriarch Sally Henzell, born in Mandeville, spent her summers growing up in Treasure Beach, before opening Jakes as a restaurant in 1993. Two years in, her son Jason left his bank job to help her expand from the single wattle-and-daub building (now serving as the lobby) into the 28-key property it is today, in addition to the handful of cottages and villas dotting Treasure Beach.
An artist first, Sally designed every one of Jakes's bungalows and hotel rooms, each unique from the others. Featuring walls embedded with glass bottles, bits of china, and shells, some rooms are shaded by towering trees, while others open right onto the rolling sea, separated only by a craggy shoreline. Beyond inviting the outside in, there is almost no distinction between the two environments.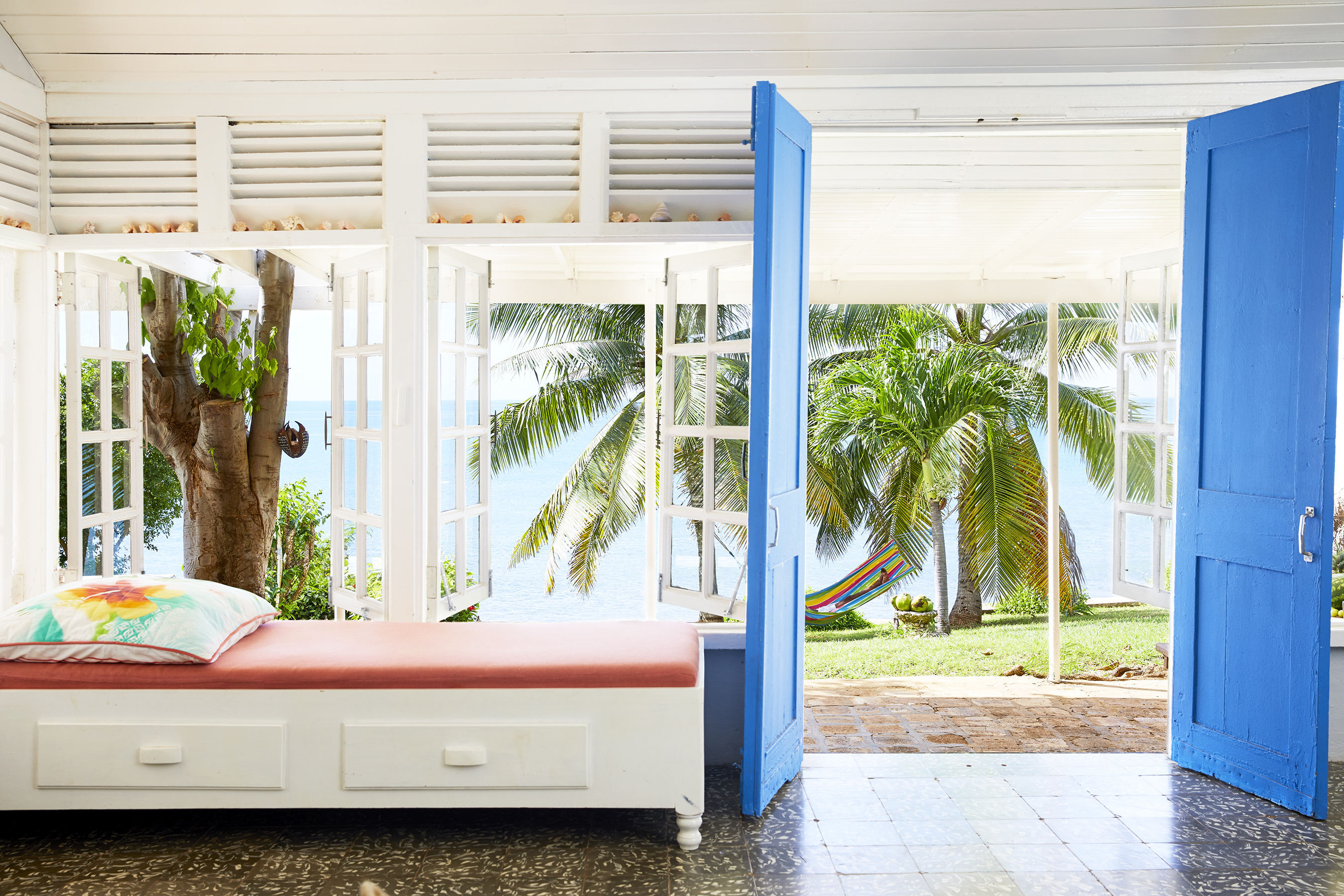 This is the Jakes way: immersing guests in the surroundings, no matter the activity. I ease into one morning by climbing a set of tiles stairs to an open-air yoga studio, for a class from Dr. Empress Thandi Wise (who leads tailored yoga retreats here). Striking a warrior's pose sets my gaze over the seemingly unending stretch of Caribbean Sea, interrupted only by the odd pelican or butterfly passing by. Just downstairs at the Driftwood Spa, the lapping waves surpass any fabricated white noise that score so many an indoor treatment room. Massages here are set in open air, and scrubs and oils are infused with ingredients from the spa's garden: coffee and coconut, mango and aloe.
Jakes is in fact surrounded by rolling red-soiled farmland ideal for growing produce—80 per cent of Jamaica's produce comes from Treasure Beach's parish of St. Elizabeth—and you can book excursions with local farmers; I discover the area by bike at sunrise. Peddling past crops of beetroots, watermelon, and garden egg (eggplant), I chat with convenience store owners, and watch residents fish the small lakes for tilapia. Be warned: the hills are steep and plentiful, but the reward of watching Treasure Beach wake up with the sun's glow is a special one.
Community tourism means that those showing off the area are the ones who know it best: locals. Captain Joseph Brown, owner of One Love Boat Tours, is one such individual. Collecting guests from Jakes' private pier, captain Brown offers visits to Pelican Bar (the fun floating bar is a must-stop, if only to say you did), but, in true Treasure Beach style, the best experience is the one that's tucked away from tourists. On our Kingfish Cookout outing, when Brown first pulls up to a golden shore some 15 minutes from Jakes, announcing our arrival at Sea Grape, I see nothing except for—appropriately—a growth of sea grape trees. It's not until we disembark and approach that I spot the wooden terrace shaded by leaves and thatched roof, where we're soon seated and served a decadent feast. Shredded crab, whole lobsters coated in garlic, and a heaping serving of kingfish—everything fished not a day ago and grilled mere feet away by Brown's wife, Paula.
Dining back at Jakes is similarly enriching, given their dedication to local ingredients. Begin the day with a hearty Jamaican breakfast plate: ackee and saltfish (a fruit and fish combination reminiscent of scrambled eggs) with fried plantain, sweet potato, dasheen, and dumpling (dense fried dough, also known as festival). The restaurant's daily menus burst with seasonal vegetables and seafood, from callaloo to conch, and house-made ice creams—try the Dragon Stout flavour. Meanwhile, just down the road, Jack Sprat is a lively hub serving a variety of options—think escovitch snapper, jerk chicken, and lobster-topped pizza. Come nightfall, the al fresco eatery fills with locals and visitors alike, many of whom are returning Jakes guests who ask newcomers like me to keep this hidden gem hidden. Really, though, Jakes and the Treasure Beach locals speak for themselves.
Room to Request
Regardless of the occasion, the honeymoon suite makes for a stunning abode. It's one of the two-storey oceanside Octopussy bungalows, complete with an outdoor tub and rooftop table setting, prime for private sunset dinners prepared by Jakes' chefs.
_________
Never miss a story. Sign up for NUVO's weekly newsletter, here.