What Cars Can You Buy New Now as Future Collectibles?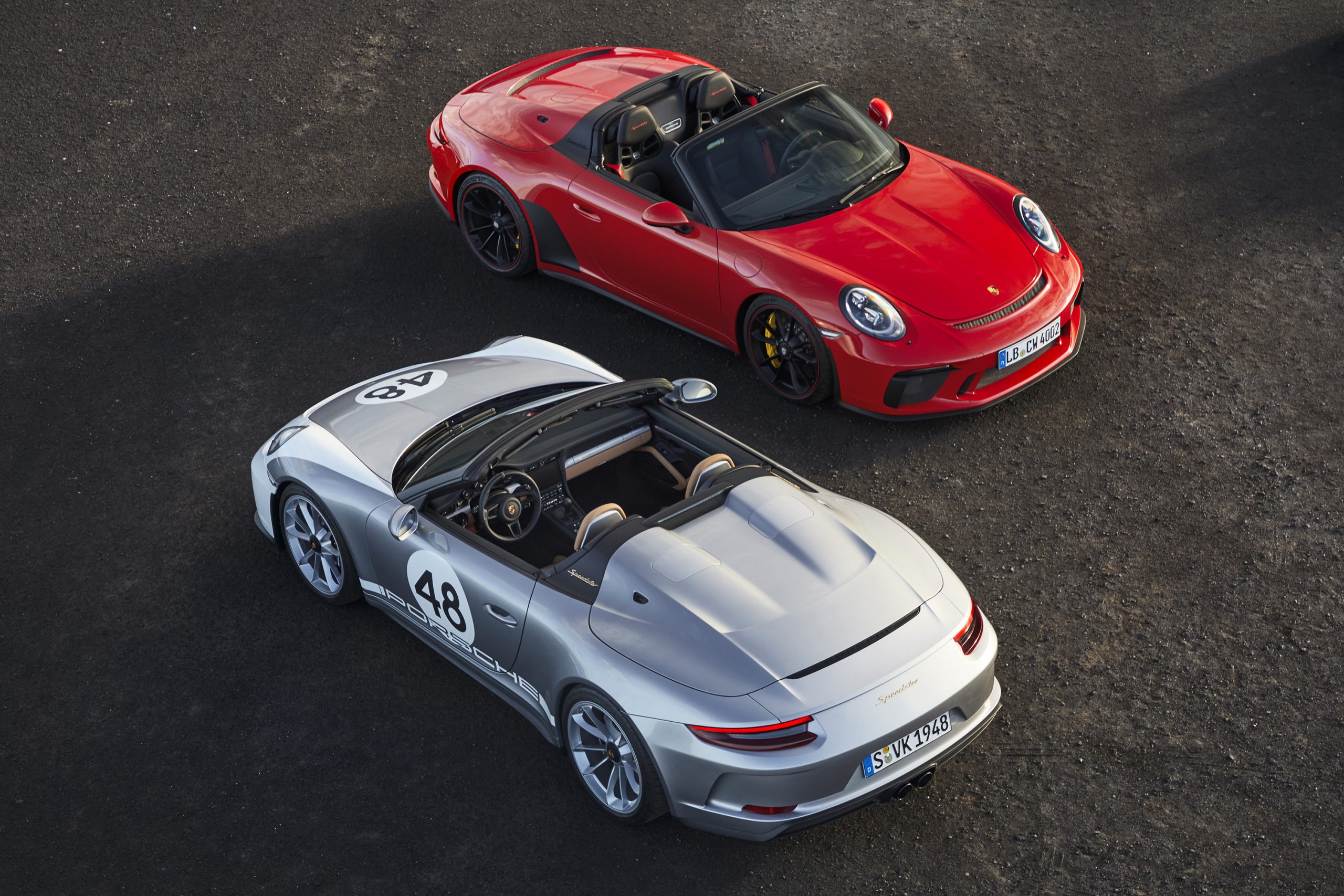 Let's look into our crystal balls and gaze at the used-car market of 2045, where many of the vehicles on sale today are defined as "classics." Of all the new cars on the market in 2020, which would fetch the best price, or be the most sought after by car collectors and enthusiasts? Here are four we think would be crossing the auction block in 25 years for impressive prices.
2020 Porsche 911 Speedster
What is it?
This range-topping Porsche 911 is a riot to drive and is practically a 911 GT3 with a canvas roof, making it better suited for the street than the track. It looks unlike any other 911 of this generation, with a low windshield and the carbon streamliners at the rear deck of the car. With 502 horsepower from its flat-six, it blasts to 100 km/h in four seconds. Only offered with a true six-speed manual transmission, you can blip the throttle yourself on every downshift.
How many were made?
1,948.
Why it might be worth holding onto:
The last time Porsche made a limited-example GT3 was with the 911 R, which was capped at 991 units and sold for well over its asking price. The Speedster could follow a similar path.
2020 Alfa Romeo 4C Spider
What is it?
The Alfa Romeo 4C is the alternative to the popular and stoic Porsche 718 Cayman and Boxster. With its exotic looks and mid-engine layout, it's a deliciously fun car to drive. Featuring a 1.74-litre four-cylinder engine that makes 237 horsepower, it hits highway speeds in 4.5 seconds, but this purist sports car is a lightweight that'll stick to the road and reward those who take the long way home.
How many were made?
For the 2020 model year, about 15 special-edition Italia models were sent to North America. Over the lifespan of the 4C (which debuted in 2014), approximately 2,398 were sold in North America.
Why it might be worth holding onto:
The Alfa Romeo 4C represents a very specific era in modern car history. As cars get equipped with more complicated technology and heavy batteries for hybrid or electric operation, the 4C may be pointed to as a sign of the simpler times, when a car could be relatively low powered, low weight, and plenty of fun.
McLaren LT Cars
What is it?
While all McLarens are considered special, the longtail models (LT) are limited to one year in production. In 2019 it was the 600LT, and for 2020 it'll be the 765LT. Each one is a track-honed monster with improved aerodynamics, grippy tires, and a low curb weight. They're the type of machines that can turn any driver into the next Carlos Sainz.
How many were made?
Exact figures on the 600LT are yet to be known, but it was only in production for one year. The 765LT hasn't yet gone into production, but McLaren is making just 765 of them.
What makes it so special?
They're not cheap and will be rare. They're also unbelievably fast, and McLaren has a history of making fast cars that are popular at auctions. For example, the McLaren F1 is currently trading for millions of dollars. We anticipate the higher-range 765LT will be a big deal in 25 years.
2020 Aston Martin Vantage AMR
What is it?
Aston Martin knocked it out of the park when they revealed the new Vantage, but some cried out for a more engaging model. The automaker complied with the limited-edition AMR model, which ditches the automatic transmission for a seven-speed manual. This allows it to be lighter and more fun to drive, though a bit slower, as you have to adapt to the dogleg transmission, which puts reverse up and to the left, while the first gear is down and to the left.
How many were made?
Only 200 Aston Martin AMR models were made, and the final 59 will be considered extra special with a Stirling green finish and contrasting lime accents to commemorate the brand's 1959 victory at the 24 Hours of Le Mans.
What makes it so special?
In case it isn't clear, manual transmission exotics are becoming a rarity in 2020, and as the world progresses to autonomous and battery-electric vehicles going forward, the manual transmission will likely be completely phased out. True enthusiasts will be seeking out these special-edition manual-equipped vehicles and likely spending a lot of money to get one.
________
Never miss a story. Sign up for NUVO's weekly newsletter here.