The pleasures of paper and ink.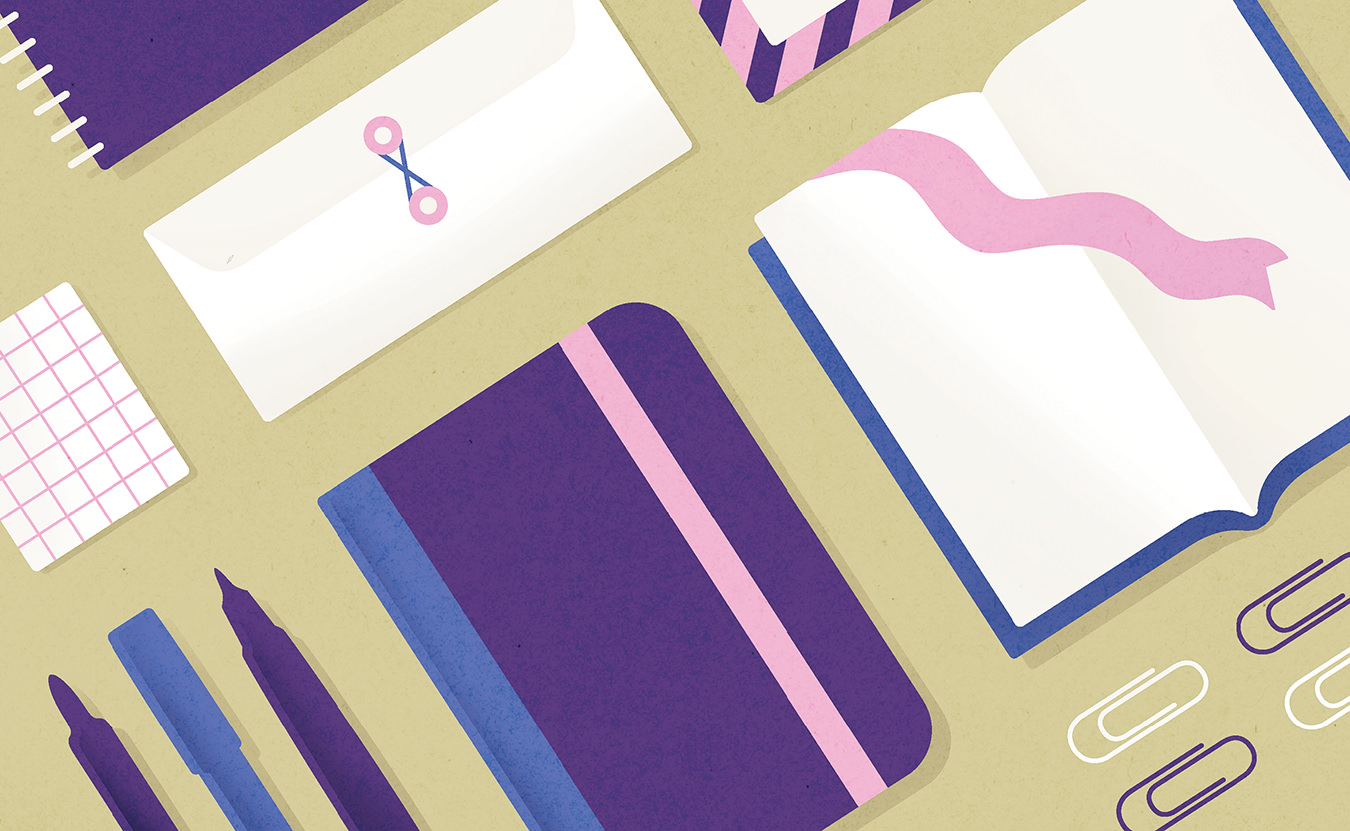 In Venice, I have never sipped a Bellini at Harry's Bar or ridden a vaporetto to Murano to buy glassware. Instead, my focus has been more on searching for the marbled paper for which the city is known. Trips to Bangkok have found me swaying with jet lag the first day upon arrival but still happy to tackle the cacophony of the MBK Center shopping complex so I could root through the paperliciousness in the Tokyu department store. And then there was the recent incident in Chiang Mai, which I'll elaborate on later. Let's just say that I'm a self-admitted stationery junkie.
Forget Eliot's coffee spoons or Proust's madeleines. Paper and ink are how I measure out my personal history: the Basildon Bond notepaper that my mother, a furious correspondent, raced through; the brown envelopes that my father used for business, stored in the cubbyholes of his drop-front desk; the stripe-edged pale-blue aerograms that, in the days before e-mail, I used for home thoughts from abroad. How my own words got onto paper was an evolution from ballpoint pens to a self-correcting electric typewriter, and then the quantum leap to my first computer, a second-hand Kaypro. All thrills at the time, but their memory pales beside the moment I first used a fine felt-tip pen. The easy glide, the Stygian ink, the narrow point that encouraged progressively smaller handwriting. Even now, the words gel ink and rollerball have the same dizzying effect on me as vintage champagne and designer handbag might have on others.
So count me among the stationery buffs (to whom buff means a seductive envelope colour), but note (mmm, notebook) that I'm selective. While I'm not immune to the blatant allure of bright-pink paper clips, what really makes my pulse race are the essential bricks and mortar of written communication, those bare essentials that, over time, have recorded Shakespeare's sonnets, Dickens's novels, and all 4,211 pages of Proust's In Search of Lost Time. In contrast, the ultimate notebook that I bought in Chiang Mai has only 397 pages (but they're large ones). I found it in Rattanapon on Thapae Road, a place with an old-fashioned feel where you'd expect to run into W. Somerset Maugham in pale, rumpled linen and a panama hat. The shop is not a total anachronism, but while you can photocopy documents and pick up felt-tip pens here, you can also mull over writing supplies that appear unchanged since the era when elephants still plodded along the street outside.
Even though I travelled as lightly as possible on this last trip to Thailand, I was happy to up my luggage by almost a couple of kilos so I could buy this colossal ledger. Measuring 22 by 33 centimetres (or the size of a decent-sized cheeseboard), this was the second largest for sale, handsome and hefty, with poppy-red covers, its corners and spine the colour of claret. The pages are lined in blue and (the factor that most heavily swayed the buying decision) they are numbered.
To a stationery fan, especially a writer, it's the potential that those pristine pages represent in terms of creativity or, in this case, order. Owning this Big Book makes me feel that one day I will be completely organized. The DVDs will be listed, the gift ideas recorded, the books I intend to read written down (even perhaps every book I own catalogued), quotes noted, and the last day in the year when you could leave the back door open, a patchwork of odd information similar to the commonplace books of a century ago.
Forget T. S. Eliot's coffee spoons or Proust's madeleines. Paper and ink are how I measure out my personal history.
Sullying page one of any notebook is a serious step. First impressions count. With the Big Book I began on page 23 because something more significant might demand a presence at the beginning. So far, all I've done is detail what I've fed people at dinner parties, partly to prevent me serving the same friends the same dishes twice, partly to remind myself that Nigel Slater's recipe for sticky sausages doesn't work with French saucisses. In a cringeworthy written form of the selfie, I've listed the items of outfits that I've spent wasted minutes putting together, down to the last earring, telling myself it ultimately saves time and stress, and it does. The options are limitless, with the only design flaw being that the XXXL size prevents Big Book from joining me on my travels.
When I lived in Vancouver, I would go to Opus Art Supplies before I went anywhere that needed a passport. There I would invest in a brand-new notebook and pen (felt-tip, of course). Years of experience had proved what the best options were. Technically meant for drawing, not writing, one type of Strathmore spiral-bound sketchbook has 100 empty pages, each half the size of a standard sheet of paper. I've been loyal to these for the past 20 years and have now amassed several drawers full, each bulging with notes, phone numbers, pasted-in business cards, menus, and ephemera.
These notebooks are sacred. Once, on my own in Marrakesh, time on my hands and a pen in one of them, I sat on a blue-and-white tiled rooftop terrace as the thin thread of the call of the muezzin stitched its way through the smoke from the charcoal grills in the street below and the distant rumble of crowds in the Djemaa el-Fna. Absorbing all this, I wrote a long letter to my daughter using the four central pages torn from an ordinary school exercise book that I'd trawled the city for. I just could not bring myself to rip pages out of my Strathmore journal.
Stationery fools become fiercely, almost pathologically inflexible about brands and sizes. A couple of Moleskine notebooks have come my way, and while I admire the storage pocket for holding—let me check a recently used one—receipts, hand-drawn maps, and the Thai words (volunteered by a bilingual tuk-tuk driver) that enabled me to buy lime leaves at a Thai price, the Moleskine has flaws: it lacks the Strathmore's spiral binding that secures a pen, and I'm forced to resort to sandwiching it in between the pages and then securing it with the integral elastic (another good Moleskine innovation). On the other hand, spiral-binding means I can't label the spine, so it's a toss-up between unlabelled journals and lost pens.
The good thing about being nuts about stationery is that you can always justify adding to your collection. A philatelist wouldn't stick a Jacques Cartier 10-penny blue on an envelope, and the owner of a Ming Dynasty vase probably would not ram daffodils into it, but we stationery-philes—being more aligned with oenophiles than other kinds of collectors—believe our beloveds are to be used. Sending a letter written on Indian notepaper riotous with gods and foliage lets us share the pleasure.
The Internet is just one vast stationery store full of joys—although, as with shopping for clothing, you don't quite get the same buzz that you do when you can handle the goods before you buy. But holy writing, Batman, a recent trawl took me to Allan's Bibles-direct.co.uk, which sells what is basically a Bible without words. Ribbon marker, gold edges: I can't begin to think of the courage it would take to make a mark on that first page, or to do the same to a spineless notebook whose concertinaed single page is intended for writing Buddhist chants. While you can buy the latter in many places, I'll wait to make the trip to Japan and to Ito-ya, a store with five storeys of nothing but stationery.
A byword for papers, and paper crafts, Japan sends out a strong call via the two polarized sides to its stationery. A doctoral thesis could be written on the link between the passion for cuteness in Little Bo Peep street fashion and the austere esthetics of classical gardens that find their match in the iconic Muji notebook (the kawaii evident in the teeth-squeakingly pretty notepaper). It is plain and spare, its name drawn from its corporate ethos of Mujirushi Ryōhin, which its website translates as "no brand quality goods". (Michael Ondaatje writes his initial drafts in Muji notebooks, and J. K. Rowling imagined Harry Potter into being in one, scribbling away at a café.)
Related to this fascination with what modern writers use is curiosity about authors and poets who have used pen and ink in the past. Stationery aficionados bypass the British Museum's mummies and marbles and make a beeline for its manuscript room, where you can see that James Joyce wrote in pencil with violent red crossings-out, William Morris had a large and generous hand both useful and beautiful, and Jane Austen crowded her pages with writing as neat as her plots. Some years ago, the museum held an exhibition of the writings of Lennon and McCartney where you could see the back of an envelope that doubled as the canvas for "Yesterday" and a page from a notebook that recounted the short, sad life of Eleanor Rigby.
Of course, we stationery lovers are Luddites and proud of it. The concept of paperless anything scares us silly. The 1980s is remembered not for its power-shouldered fashion and yuppie culture but for the launch of the Filofax, a small, robust binder begging to be filled with inserts and notes. I liked simple page-a-day diaries too, the size of small novels. Keyboarding an appointment into a laptop just doesn't have the same weight, and calling these digital imposters "iPads" or "notebooks" only reminds me poignantly of the real article.
Our literary tastes give us away. We lean to epistolary books like Les liaisons dangereuses and Annie Proulx's Postcards, and letters of… just about anybody, with British Columbia resident Nick Bantock's Griffin and Sabine trilogy offering the ultimate in multisensory pleasure. Female stationery devotees always pick scribbling Jo as the most enviable March sister in Little Women. I confess to "liking" the Facebook page for Stationery Addicts Anonymous and reading about others' addictions at Notebookstories.com.
Wherever I travel, I am drawn into the gravitational field of a stationery store. I also search out the writing related, such as the public scribes in Melaka, Malaysia, who fill out government forms on request and on vintage manual typewriters. I window shop on rue du Pont Louis-Philippe in Paris and where, for 25 years, Melodies Graphiques has been a small temple to the beauty and possibilities of paper and ink. Its owner, Eric de Tugny, encourages you to dip the nib of a quill pen into a bottle (violette is the most popular colour sold here), carefully shake any excess onto the round, felt pen-wiper, and write or draw in the hard-bound book left there for that purpose, as you try not to be intimidated by the envelopes with exquisite calligraphy displayed on the walls. In another store on this same narrow street, you can buy portfolios made from lilac-coloured suede. It delights me to the core that somewhere in this sometimes cruel world there still exists a need for portfolios made from lilac-coloured suede.