Adah Menken Made The West Wilder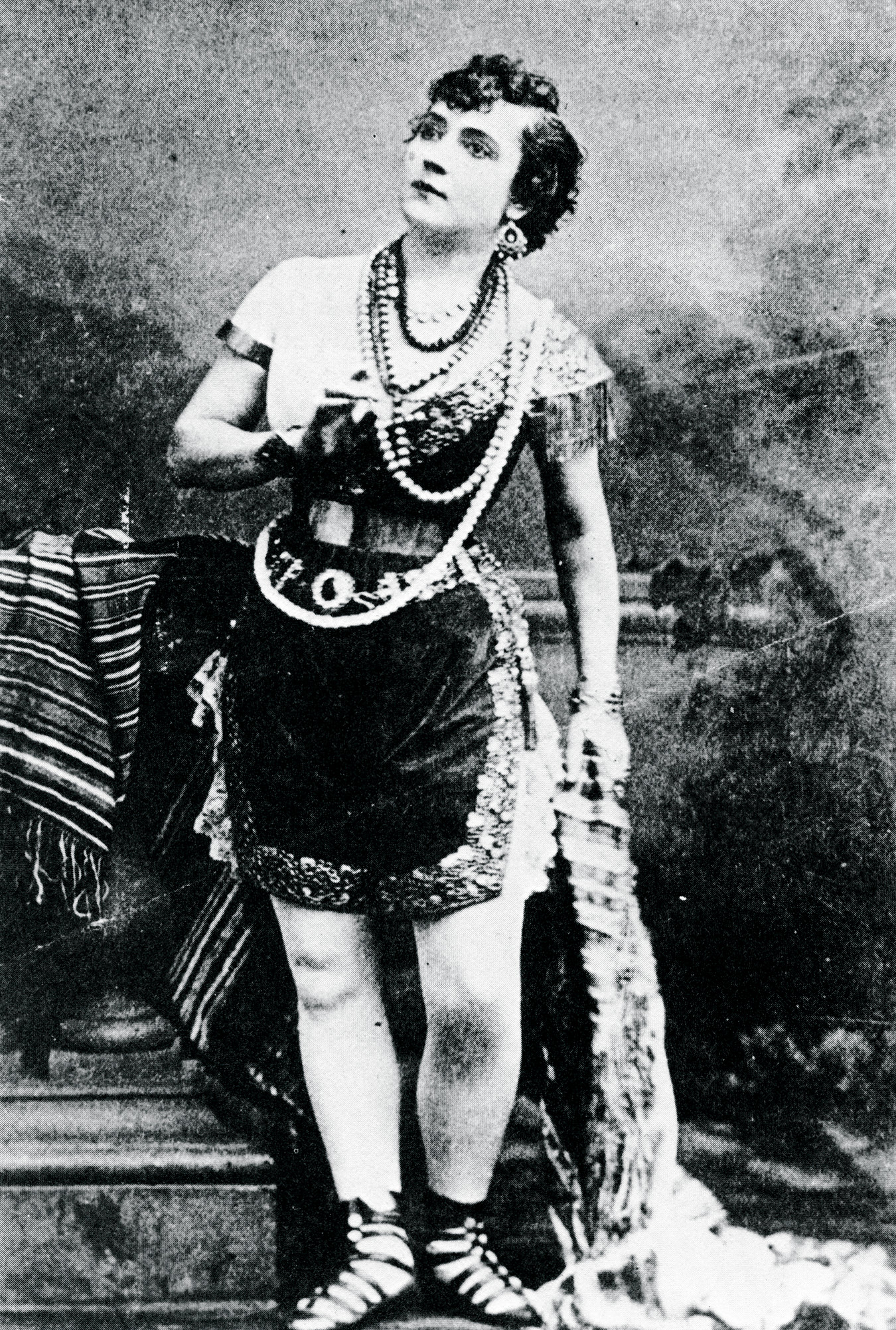 She did not rouge but played some deviltry with her glorious eyes. —Charles Reade
She came into Virginia City, Nevada on the Wells Fargo stagecoach in the early 1860's sitting up top with the luggage and facing backwards because she wanted to keep an eye on her stallion that was being transported in a following wagon. It was the horse that she rode at the thrilling finale of Mazeppa, bareback in pink tights, an illusion of nakedness that had left the men, and a few of the women, swooning from coast to coast, as would soon be the case in Paris and London.
The story got around, and maybe it was true, that the stagecoach had been attacked by Comanches who weren't interested in the strong box or the stallion, but in the star passenger. It was further attested that the young lady went off behind some cottonwood trees to negotiate with her would-be captors. The story may be apocryphal but with Adah Menken one could never be sure. She was then only 26 years old and had already lead a dozen lives.
According to the reporter on the Virginia City Enterprise, a fellow named Mark Twain, Menken had the effect of "a vast spray of gas jets." She was "a magnificent spectacle." Not a star but "a whole constellation."
A dozen lives.
No one knows for sure what her real name was or where she was born. The two leading theories are that her father was named either McCord or Theodore, that she was born in 1835, either in Mississippi or just outside New Orleans. Biographers who maintain her father was McCord, insist that her mother was Creole; those of the Theodore school, that her father was part Negro. Other, earlier, theories had her born in New York, France or the Caribbean, of various racial mixes.
She was attached, at age eight, to the ballet school at the French Opera House in New Orleans, and proved to be a natural. When she was fifteen, the age she claimed to have been raped by her mother's boyfriend, Ida went to Havana as a dancer. There she was hailed as The Queen of the Plaza, and conducted an affair with Juan Clemente Zenea, a nobleman and popular poet. The affair ended when Clemente displayed outrageous jealousy. On his deathbed in 1871, the poet admitted that Adah Menken had been the love of his life.
After a successful tour of Mexico, Adah returned to America, became a striptease artist, took up poetry and the study of languages. At the age of nineteen, supposedly in Galveston, Texas, she married a musician named Alexander Isaacs Menken, and converted to Judaism. Her husband was mortified that she smoked cigarettes in public. He wanted her to settle down and raise a family but Adah was having none of it. She left Menken but hadn't got around to divorcing him when she married John C. Heenan, the bare knuckle heavyweight champion of the world. "I just thought men were supposed to take care of the details," she told the press during the scandal that ensued. "I mean, like divorce."
Fortunately for Adah, the press was unaware that she was a bigamist twice over. She did get married in Galveston but not to Menken. Him she married in Livingston, Texas. The Galveston betrothal occurred two years earlier. Facts about her first husband, other than his name, W.H. Kneass, are lost to history.
Adah and John C. Heenan fought physically when not dueling poetically. A century before Muhammed Ali, Heenan was dissing his opponents in verse. Menken was insulted when it was suggested that she helped him.
After divorce from Heenan, she married Robert Newell, literary editor of the New York Sunday Mirror. Menken must have thought she needed a more proper sort of husband. Newell was a rigid, conventional writer, and a Puritan. He installed Adah in his home in Jersey City and forbade her to leave; that was a woman's place, after all. Adah managed a week of it before exiting from a window and making for New York. Her last husband was a gambler and Confederate Agent, James Barkley. Adah left after three days because Barkley wanted her to cancel an upcoming Paris engagement.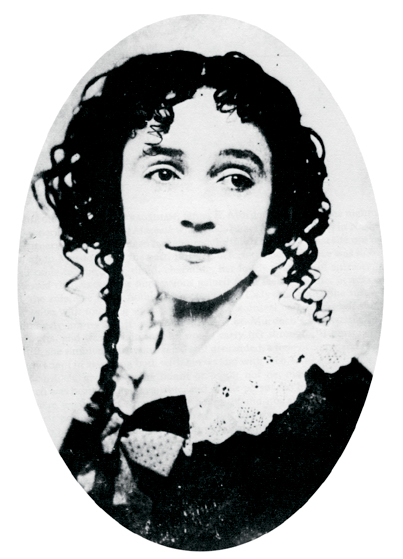 Adah was "a magnificent spectacle." Not a star but "a whole constellation."
What man could have held her? She was a free thinker and libertine, an actress, painter, sculptor and, probably, the world's first glamour queen. After getting away from Heenan, she took to the boards again starring in The Italian Wife. She had a poetry reading act, recited Shakespeare, and impersonated Edwin Booth declaiming the Bard. Adah also appeared in blackface as Mr. Bones in a minstrel show. While starring in Baltimore, she was arrested by Federal agents and held as a Confederate spy. After a week she was released when she swore an oath of allegiance.
About this time Menken began a liaison with Roger Blondin, who had astounded the world when he walked a tightrope across Niagara Falls. She placed a caveat on his proposal of marriage: he had to let her cross the Falls with him. He replied that he was afraid her beauty would distract him and they would both plummet to their deaths. They made a tour of music halls before splitting up.
She made her fame in Mazeppa, which was based on a Lord Byron poem. At the end of the play, the hero, a brave Tartar, escapes on a wild horse. Until Menken, Mazeppa had always been played by a young man, and a stuffed dummy was used in the escape. Menken, however, insisted on doing it herself in pink tights. She got a great review in New York from her friend Walt Whitman.
But it was in San Francisco that she caused a sensation. Impressario Tom Maquire promoted her appearance at his opera house, by writing, "Miss Menken, stripped by her captors, will ride a fiery steed at furious gallop onto and across the stage and into the distance." Menken knocked the Civil War off the front page of the newspapers. Yet, bored, Adah left San Francisco at the height of her fame and notoriety. In London, she set records at the box office but was condescended to by the press. Punch called her "a puff of a Jewess."
Eventually, she took Mazeppa to Paris where she was again a sensation. Adah also appeared at the Theater de la Gaite in "Les Pirates de la Savanne". Rich men lined up for her favours and the first she chose, with a nod toward her idol, Lola Montez, was King Charles of Wurttemburg. Rumours spread of a morganatic marriage. But before she could get around to ruling the tiny kingdom, she met and fell in love with Alexander Dumas, pere, the King of Romance.
He was the Lion of Literature, a big-bellied big spender, down on his luck and growing old, but after taking one look at her backstage, he told himself that D'Artagnan would ride again. Some people insisted that Dumas was past it, but as a series of notorious photographs intimates, the affair was more than platonic. The pictures of them together were not meant to be circulated but not only did they reach the general public, some unscrupulous photographer used lookalikes to produce obscene versions of the originals. It is likely that Adah was chased out of Paris through the machinations of Alexandre Dumas, fils.
Menken went to London where she was lionized by Charles Dickens, Charles Reade, Dante Gabriel Rossetti and Charles Swinburne, who told her, "A woman with such beautiful legs shouldn't bother about poetry." Menken was the only woman who was ever capable of rousing Charles Swinburne "to scratch," as she put it; the only woman to whom he made love. And could not desist, evidently. His poem about her, "Dolores," is infamous.
Charles Dickens wrote an introduction to a volume of her poetry.
But Adah missed Paris and returned to France. She was to appear in a show but was in ill health. When two months on the beach at Le Havre failed to restore her, Adah took to bed in a small hotel in Paris and never left it in life. She maintained the lie of her conversion to Judaism to the very end, 10 August, 1868, when a rabbi made Kaddish over her. Her religion forbade a post mortem. The cause of death was given as "a complication of diseases."
"Too much living" might have been a more apt diagnosis. She was thirty-three years old, and looked a tired fifty-three. In a photograph of Adah, age eighteen, she looks almost too beautiful.
The death certificate was issued under the name Menken Adele Isaac Barclay. Her legend has never died. In our time, we have seen reference to her in the Broadway musical, Gypsy; Ruth Roman and Roxane Berard portrayed her on Bonanza and Gunsmoke on television, and Sophia Loren was Adah Menken in the movie, Heller in Pink Tights. Playing somewhere in the world tonight is a stage show about her.
Despite her travels and romances, her triumphs and affairs, her studies and excesses, the stories of her appeal, the legend of Adah Menken was best expressed by a western historian who, in the late 1800s, wrote that there were still men around in the west who recalled the wild old days, who bragged of having a drink with Kit Carson or looking Jim Bridger in the eye. But the man who one-upped them all was the one who could say, "Yes, well, I saw Adah Menken in pink tights ride that horse."
Photos courtesy of Mankowitz, Wolf. Mazeppa: The Lives, Loves, and Legends of Adah Isaacs Menken. Blond & Briggs Limited, Dataday House, London: 1982.